MIDDLEBURG, VIRGINIA
Our first store opened in Middleburg, VA, a perfectly quaint town for the vibe and aesthetic that Crème de la Crème is all about. You will not come upon a Starbucks or McDonald's in a walk around the tidy and tiny streets of Middleburg.  A guarded, private village about 40 miles west of Washington, DC; visitors can get a glimpse of the country life by visiting local stores, wineries and taking in the beautiful scenery.

23 E. Washington St.
Middleburg, VA 20118
540-687-4796
Hours:
Mon-Sat: 10a-6p
Sun: 11a-6p
FREDERICK, MARYLAND
Crème de la Crème in Frederick is the newest location. Opening in 2016, this fabulous store location is away from the strip-malls and outlets. We found a perfect place to call our new home in the heart of old town Frederick. We offer a charming shopping experience that we wanted to take part of. Pocketed alongside other local retailers and shops, this location is great for a quick weekend escape.

207 N. Market St.
Frederick, MD 21701
240-651-1714
Hours:
Mon-Wed: 10a-6p
Thurs: 10a-7p
Fri-Sat: 10a-8p
Sun: 11a-6p
RICHMOND, VIRGINIA
Joining the family in Spring of 2015, our Carytown store is located in Richmond, VA. Another perfectly picked out spot in the old center of town.  We are so excited to be a new neighbor to the surrounding retailers and residents. Carytown is full of life and local events and entertainment. Our new store is sure to add to this fun flavor, and we hope to be a new favorite in the area.


3156 W. Cary St.
Richmond, VA 23221
804-912-1652
Hours:
Mon-Thurs: 10a-6p
Fri-Sat: 10a-6p
Sun: 11a-5p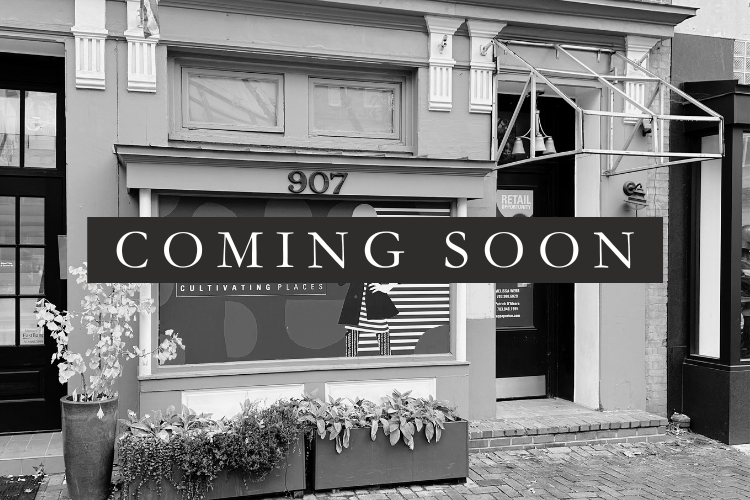 ALEXANDRIA, VIRGINIA
  We are excited to announce we will be opening a new location in Alexandria, Virginia in March of 2024.
907 North King Street
Alexandria, VA 22314